Product Summary
The TDA1185A is a triac phase angle controller. The TDA1185A generates controlled triac triggering pulses and allows tachless speed stabilization of universal motors by an integrated positive feedback function. Typical applications of the TDA1185A are power hand tools, vacuum cleaners, mixers, light dimmer and other small appliances.
Parametrics
TDA1185A absolute maximum ratings: (1)Voltage range per listed pin, Vpin: -20 to +20V; (2)Positive voltage: 0.5V; (3)Power dissipation, PD: 250mW; (4)Thermal resistance, RθJA: 100℃/W; (5)Operating ambient temperature range, TA: 0 to +70℃; (6)Storage temperature range, Tstg: -55 to +125℃.
Features
TDA1185A features: (1)Supply power obtained form AC line; (2)Can be used with 220V/50Hz or 110 V/60Hz; (3)Low count/cost external components; (4)Optimum triac firing; (5)Repetitive trigger pulses when triac current is interrupted by motor brush bounce; (6)Triac current sensing to allow inductive loads; (7)Programmable soft start; (8)Power failure detection and general circuit reset; (9)Low power consumption: 6.0mA.
Diagrams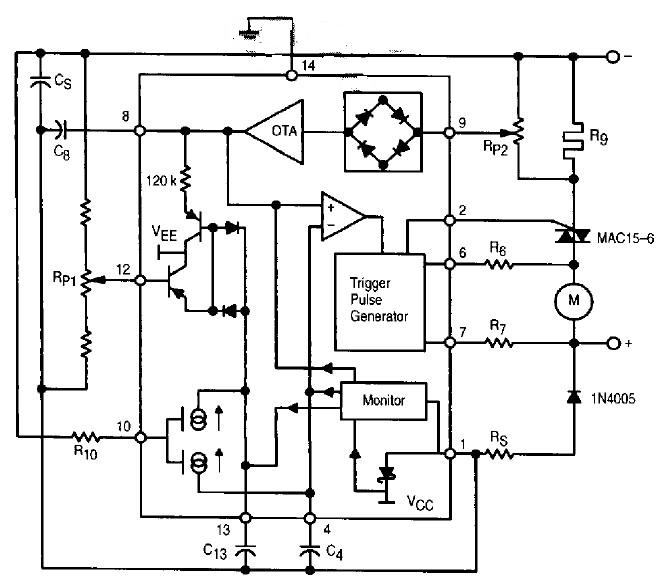 Image
Part No
Mfg
Description
Pricing
(USD)
Quantity

TDA1185A

Other



Data Sheet

Negotiable
Image
Part No
Mfg
Description
Pricing
(USD)
Quantity

TDA1001B

Other



Data Sheet

Negotiable

TDA1001BT

Other



Data Sheet

Negotiable

TDA10021HT

Other



Data Sheet

Negotiable

TDA10025HN/C1,518

NXP Semiconductors

Modulator / Demodulator Dual Cable (QAM) Demodulator

Data Sheet



| | |
| --- | --- |
| 0-3010: | $1.36 |
| 3010-4000: | $1.31 |


TDA10025HN/C1,551

NXP Semiconductors

Modulator / Demodulator DUAL CBL DEMODULATOR

Data Sheet



| | |
| --- | --- |
| 0-1: | $2.63 |
| 1-25: | $2.36 |
| 25-100: | $2.15 |
| 100-250: | $1.94 |


TDA10025HN/C1,557

NXP Semiconductors

Modulator / Demodulator DUAL CBL DEMODULATOR

Data Sheet



| | |
| --- | --- |
| 0-785: | $1.69 |
| 785-1000: | $1.43 |
| 1000-2000: | $1.36 |
| 2000-5000: | $1.31 |