Product Summary
The 74HC139D is a high-speed Si-gate CMOS device and is pin compatible with low power Schottky TTL (LSTTL). It is specified in compliance with JEDEC standard no. 7A. The 74HC139D is a high-speed, dual 2-to-4 line decoder/multiplexer. This device has two independent decoders, each accepting two binary weighted inputs (nA0 and nA1) and providing four mutually exclusive active LOW outputs (nY0 to nY3). The 74HC139D decoder has an active LOW enable input (nE). When nE is HIGH, every output is forced HIGH. The enable can be used as the data input for a 1-to-4 demultiplexer application.
Parametrics
74HC139D specifications: (1)Vendor: NXP Semiconductors; (2)Category: Integrated Circuits (ICs); (3)Circuit: 1 x 2:4; (4)Independent Circuits: 2; (5)Mounting Type: Surface Mount; (6)Package / Case: 16-SOIC (0.154", 3.90mm Width); (7)Packaging: Tube; (8)Type: Decoder/Demultiplexer; (9)Voltage Supply Source: Single Supply; (10)Operating Temperature: -40℃ ~ 125℃; (11)Voltage - Supply: 2 V ~ 6 V; (12)Lead Free Status: Lead Free; (13)RoHS Status: RoHS Compliant.
Features
74HC139D features: (1)Demultiplexing capability; (2)Two independent 2-to-4 decoders; (3)Multifunction capability; (4)Active LOW mutually exclusive outputs; (5)Output capability: standard; (6)ICC category: MSI.

Diagrams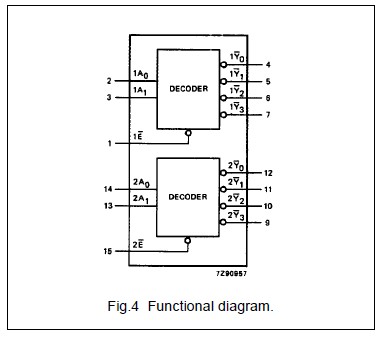 Image
Part No
Mfg
Description
Pricing
(USD)
Quantity

74HC139D

NXP Semiconductors

Encoders, Decoders, Multiplexers & Demultiplexers 2-4 LINE DCOD/DMUX DUAL

Data Sheet

Negotiable

74HC139D,652

NXP Semiconductors

Encoders, Decoders, Multiplexers & Demultiplexers 2-4 LINE DCOD/DMUX

Data Sheet



| | |
| --- | --- |
| 0-1: | $0.07 |
| 1-25: | $0.07 |
| 25-100: | $0.07 |
| 100-250: | $0.06 |


74HC139D,653

NXP Semiconductors

Encoders, Decoders, Multiplexers & Demultiplexers DUAL 2-4 LINE DECODER/DEMUX

Data Sheet



| | |
| --- | --- |
| 0-1: | $0.14 |
| 1-25: | $0.11 |
| 25-100: | $0.10 |
| 100-250: | $0.08 |


74HC139DB,118

NXP Semiconductors

Encoders, Decoders, Multiplexers & Demultiplexers DUAL 2-4 LINE

Data Sheet



| | |
| --- | --- |
| 0-1: | $0.37 |
| 1-25: | $0.32 |
| 25-100: | $0.27 |
| 100-250: | $0.24 |


74HC139DB,112

NXP Semiconductors

Encoders, Decoders, Multiplexers & Demultiplexers DUAL 2-4 LINE

Data Sheet



| | |
| --- | --- |
| 0-1: | $0.37 |
| 1-25: | $0.32 |
| 25-100: | $0.27 |
| 100-250: | $0.24 |


74HC139DB

NXP Semiconductors

Encoders, Decoders, Multiplexers & Demultiplexers DUAL 2-4 LINE DECODER/DEMUX

Data Sheet

Negotiable

74HC139DB-T

NXP Semiconductors

Encoders, Decoders, Multiplexers & Demultiplexers DUAL 2-4 LINE DECODER/DEMUX

Data Sheet

Negotiable