Product Summary
The SD12CT1G is a transient voltage suppressor with Bi-directional ESD protection with ultra low clamping voltage. The SD12CT1G is designed to protect voltage sensitive components from ESD and transient voltage events. Excellent clamping capability, low leakage, and fast response time, make this part ideal for ESD protection of the SD12CT1G on designs where board space is at a premium. Because of its small size, it is suited for use in cellular phones, portable devices, digital cameras, power supplies and many other portable applications.
Parametrics
SD12CT1G absolute maximum ratings: (1)Peak Power Dissipation @ 20 μs @ TL 3 25℃, Ppk: 350 W; (2)IEC 61000.4.2 (ESD): ±30kV; (3)IEC 61000.4.4 (EFT): 40 A; (4)Storage Temperature Range Tstg: -55 to +150 ℃; (5)Operating Temperature Range TJ: -55 to +125 ℃; (6)Lead Solder Temperature . Maximum (10 Second Duration) TL: 260 ℃.
Features
SD12CT1G features: (1)Peak Power 350W; (2)Low Leakage; (3)Low Clamping Voltage; (4)Small Package for use in Portable Electronics; (5)Meets IEC61000-4-2 Level 4; (6)Meets IEC6100-4-4 Level 4; (7)Meets 16 kV Human Body Model ESD Requirements; (8)Pb-Free Package is Available.
Diagrams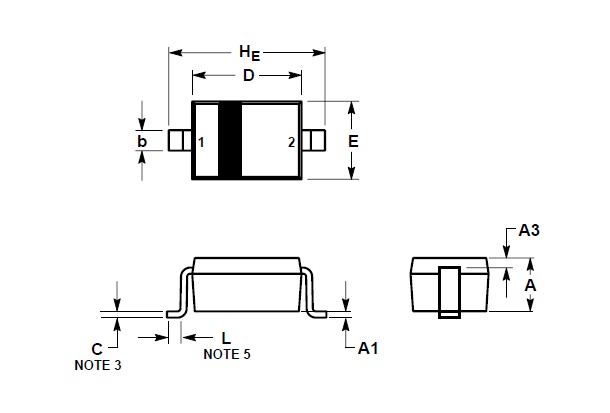 Image
Part No
Mfg
Description
Pricing
(USD)
Quantity

SD12CT1G

ON Semiconductor

TVS Diodes - Transient Voltage Suppressors 12V Bidirectional ESD Protection Diode

Data Sheet



| | |
| --- | --- |
| 0-1: | $0.26 |
| 1-25: | $0.17 |
| 25-100: | $0.14 |
| 100-500: | $0.09 |

Image
Part No
Mfg
Description
Pricing
(USD)
Quantity

SD1200

Other



Data Sheet

Negotiable

SD1209T3-A1

TDK

Speakers & Transducers Round 12mmx9mm 2048Hz Vin=1-4V

Data Sheet



| | |
| --- | --- |
| 0-1: | $1.69 |
| 1-10: | $1.37 |
| 10-25: | $1.18 |
| 25-100: | $1.05 |


SD1209T5-A1

TDK

Speakers & Transducers Round 12mmx9mm 2048Hz Vin=3-6V

Data Sheet



| | |
| --- | --- |
| 0-1: | $1.12 |
| 1-10: | $0.95 |
| 10-25: | $0.88 |
| 25-100: | $0.81 |


SD120P

Other



Data Sheet

Negotiable

SD1210

Staco

Power Transformers 0-120/140Vout 12A 120Vin motorized

Data Sheet



| | |
| --- | --- |
| 0-1: | $895.86 |
| 1-2: | $870.26 |
| 2-5: | $844.67 |


SD12-100-R

Cooper Bussmann

Power Inductors 10uH 0.818A 0.2844ohms

Data Sheet



| | |
| --- | --- |
| 0-3350: | $0.70 |
| 3350-3500: | $0.61 |
| 3500-7000: | $0.56 |