Product Summary
The SN75466N is a darlington transistor array.
Parametrics
SN75466N absolute maximum ratings: (1)Collector emitter voltage: 100V; (2)Input voltage: 30V; (3)Peak vollector current: 500mA; (4)Total emitter terminal current: -2.5A; (5)Operating free air temperature range: 0 to 70℃; (6)Storage temperature range: -65 to 150℃; (7)Lead temperature: 260℃.
Features
SN75466N features: (1)500mA rated collector current; (2)High clamp diodes; (3)Inputs compatible with various types of logic; (4)Relay driver applications; (5)Higher voltage versions.
Diagrams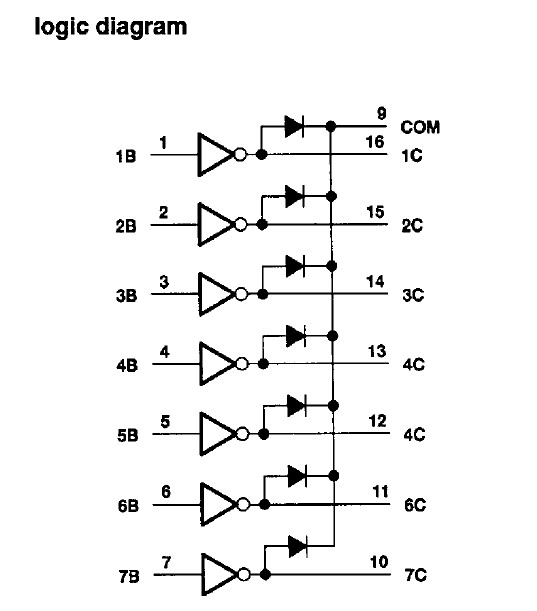 SN75061

Other



Data Sheet

Negotiable

SN75076B

Other



Data Sheet

Negotiable

SN75107A

Other



Data Sheet

Negotiable

SN75107AD

Texas Instruments

Bus Receivers Dual Line

Data Sheet



| | |
| --- | --- |
| 0-1: | $1.26 |
| 1-25: | $1.01 |
| 25-100: | $0.92 |
| 100-250: | $0.79 |


SN75107ADE4

Texas Instruments

Buffers & Line Drivers DUAL LINE RECEIVER

Data Sheet



| | |
| --- | --- |
| 0-1: | $1.26 |
| 1-25: | $1.01 |
| 25-100: | $0.92 |
| 100-250: | $0.79 |


SN75107ADG4

Texas Instruments

Buffers & Line Drivers Dual Line Receiver

Data Sheet



| | |
| --- | --- |
| 0-1: | $1.26 |
| 1-25: | $1.01 |
| 25-100: | $0.92 |
| 100-250: | $0.79 |