Product Summary
The TDA2030AV is a monolithic IC in Pentawatt package intended for use as low frequency class AB amplifier. With VS max = 44V it is particularly suited for more reliable applications without regulated supply and for 35W driver circuits using low-cost complementary pairs. The TDA2030AV provides high output current and has very low harmonic and cross-over distortion. Further the device incorporates a short circuit protection system comprising an arrangement for automatically limiting the dissipated power so as to keep the working point of the output transistors within their safe operating area. A conventional thermal shut-down system is also included.
Parametrics
TDA2030AV absolute maximum ratings: (1)Vs Supply Voltage: ± 22 V; (2)Vi Input Voltage: Vs; (3)Vi Differential Input Voltage: ± 15 V; (4)Io Peak Output Current (internally limited): 3.5 A; (5)Ptot Total Power Dissipation at Tcase = 90 ℃: 20 W; (6)Tstg, Tj Storage and Junction Temperature: - 40 to + 150 ℃.
Features
TDA2030AV features: (1)Vs Supply Voltage: ± 6 to ± 22 V; (2)Quiescent Drain Current: 50to 80 mA; (3)Input Bias Current: 0.2 to 2 μA; (4)Input Offset Voltage: ± 2 to ± 20 mV; (5)Power Bandwidth: 100kHz; (6)Thermal Shut-down Junction; (7)Temperature: 145 ℃.
Diagrams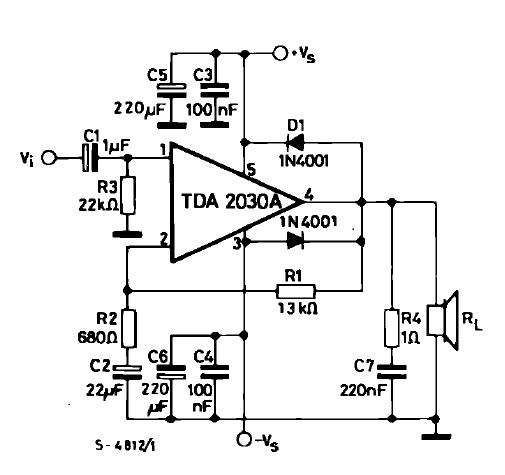 Image
Part No
Mfg
Description
Pricing
(USD)
Quantity

TDA2030AV

STMicroelectronics

Audio Amplifiers 18W Hi-Fi Amplifier

Data Sheet



| | |
| --- | --- |
| 0-1: | $0.97 |
| 1-10: | $0.80 |
| 10-100: | $0.70 |
| 100-250: | $0.61 |


TDA2030AV/MOR

Other



Data Sheet

Negotiable