Product Summary
The 74AHC126D is a high-speed Si-gate CMOS device and is pin compatible with low power Schottky TTL (LSTTL). The 74AHC126D is specified in compliance with JEDEC standard No. 7A. The 74AHC126D is four non-inverting buffer/line drivers with 3-state outputs. The 3-state outputs (nY) are controlled by the output enable input (nOE) A LOW at nOE causes the outputs to assume a HIGH-impedance OFF state.
Parametrics
74AHC126D absolute maximum ratings: (1)VCC, DC supply voltage: -0.5 to +7.0 V; (2)VI, input voltage range: -0.5 to +7.0 V; (3)IIK, DC input diode current: ; (4)IOK, DC output diode current: ±20 mA; (5)IO, DC output source or sink current: ±25 mA; (6)ICC, DC VCC or GND current:±75 mA; (7)Tstg, storage temperature range: -65 to +150℃; (8)PD, power dissipation per package for temperature range: -40 to +125℃.
Features
74AHC126D features: (1)ESD protection: HBM EIA/JESD22-A114-A exceeds 2000 V, MM EIA/JESD22-A115-A exceeds 200 V CDM EIA/JESD22-C101 exceeds 1000 V; (2)Balanced propagation delays; (3)All inputs have Schmitt-trigger actions; (4)Inputs accepts voltages higher than VCC; (5)For AHC only: operates with CMOS input levels; (6)For AHCT only: operates with TTL input levels; (7)Specified from -40 to +85 and +125℃.
Diagrams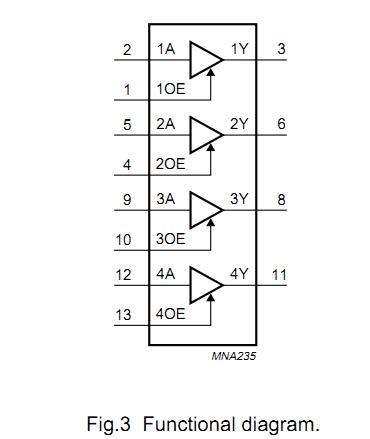 Image
Part No
Mfg
Description
Pricing
(USD)
Quantity

74AHC126D

NXP Semiconductors

Buffers & Line Drivers QUAD 3-STATE BUS BUF

Data Sheet

Negotiable

74AHC126D,112

NXP Semiconductors

Buffers & Line Drivers QUAD 3-STATE BUS BUF

Data Sheet



| | |
| --- | --- |
| 0-1: | $0.23 |
| 1-25: | $0.19 |
| 25-100: | $0.15 |
| 100-250: | $0.11 |


74AHC126D,118

NXP Semiconductors

Buffers & Line Drivers QUAD 3-STATE BUS BUF

Data Sheet



| | |
| --- | --- |
| 0-1: | $0.23 |
| 1-25: | $0.19 |
| 25-100: | $0.15 |
| 100-250: | $0.11 |


74AHC126D-T

NXP Semiconductors

Buffers & Line Drivers QUAD 3-STATE BUS BUF

Data Sheet

Negotiable