Product Summary
The TDA2822 is a monolithic integrated circuit in 12+2+2 powerdip, intended for use as dual audio power amplifier in portable radios and TS sets.
Parametrics
TDA2822 absolute maximum ratings: (1)Vs Supply Voltage: 15 V; (2)Io Output Peak Current: 1.5 A; (3)Ptot Total Power Dissipation at Tamb = 50 ℃ at Tcase = 70 ℃: 1.25W; 4W; (4)Tstg, Tj Storage and Junction Temperature: - 40 to 150 ℃.
Features
TDA2822 features: (1)SUPPLY VOLTAGEDOWN TO 3 V; (2)LOWCROSSOVER DISTORSION; (3)LOWQUIESCENT CURRENT; (4)BRIDGE OR STEREO CONFIGURATION.
Diagrams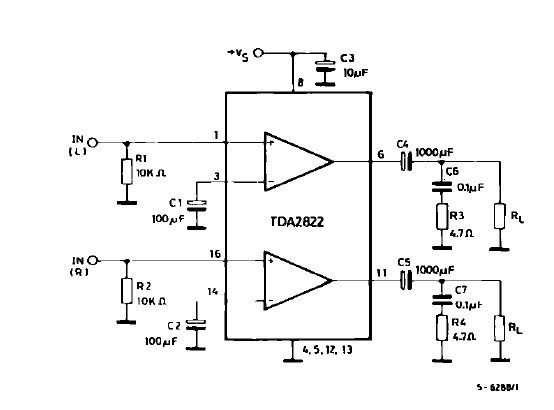 Image
Part No
Mfg
Description
Pricing
(USD)
Quantity

TDA2822

STMicroelectronics

Audio Amplifiers Dual Power Amplifier

Data Sheet

Negotiable

TDA2822D

STMicroelectronics

Audio Amplifiers Dual Lo-Volt Pwr Amp

Data Sheet



| | |
| --- | --- |
| 0-1: | $0.89 |
| 1-10: | $0.74 |
| 10-100: | $0.61 |
| 100-250: | $0.53 |


TDA2822D013TR

STMicroelectronics

Audio Amplifiers Dual Lo-Volt Pwr Amp

Data Sheet



| | |
| --- | --- |
| 0-1: | $0.89 |
| 1-10: | $0.76 |
| 10-100: | $0.61 |
| 100-250: | $0.53 |


TDA2822M

STMicroelectronics

Audio Amplifiers Dual Lo-Volt Pwr Amp

Data Sheet



| | |
| --- | --- |
| 0-1: | $0.94 |
| 1-10: | $0.77 |
| 10-100: | $0.65 |
| 100-250: | $0.56 |


TDA2822M-3V

Other



Data Sheet

Negotiable