Product Summary
The IC TDA4605 controls theMOSPower Transistor and performs all necessary regulation and monitoring functions in free running flyback converters. Since good load regulation over a wide load range is attained, this IC is particularly suitable for Consumeras well as IndustrialPower Supplies. Alternative source of the TDA4605 is also available from SIEMENS Semiconductors Consumer Electronics A.G.
Parametrics
TDA4605 absolute maximum ratings: (1)Supply Voltage: -0.3 to +3 V; (2)Supply Current: 3 mA; (3)Tj Junction Temperature (autom. thermal disjunction) +125 ℃; (4)Tstg Storage Temperature -40, +125 ℃.
Features
TDA4605 FEATURES: (1)FOLD-BACK CHARACTERISTIC PROVIDES OVERLOAD PROTECTION FOR EXTERNAL DIODES; (2)BURST OPERATION UNDER SHORT-CIR-CUIT AND NO LOADCONDITIONS; (3)LOOP ERROR PROTECTION ; (4)SWITCH-OFF IN CASE OF TOO LOW LINE VOLTAGE; (5)LINE VOLTAGE COMPENSATION OF OVER LOAD POINT SOFT-START FOR SMOOTH START-UP; (6)CHIP OVER-TEMPERATURE PROTECTION; (7)ON-CHIP PARASITIC TRANSFORMER OS CILLATIONSUPPRESSION CIRCUITRY; (8)DECREASE OF REGULATED VOLTAGE FOR LOW POWER CONSUMPTION.
Diagrams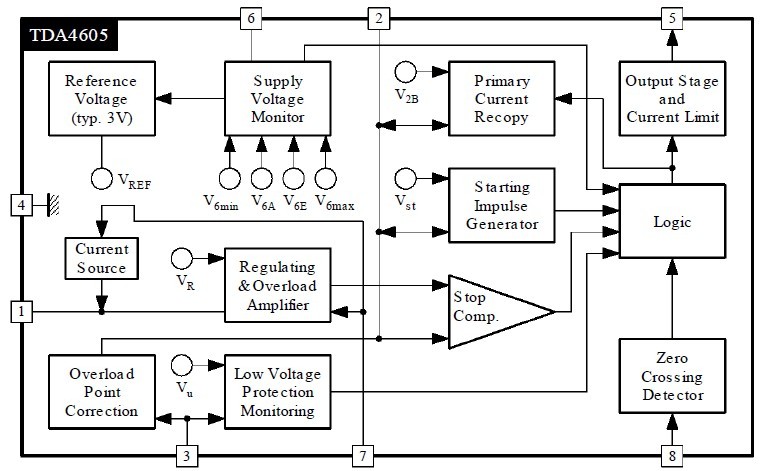 Image
Part No
Mfg
Description
Pricing
(USD)
Quantity

TDA4605

STMicroelectronics

Video ICs SMPS Controller

Data Sheet

Negotiable

TDA4605-2

Infineon Technologies

Soft Switching PWM Controllers CTRL IC FOR SWITCH MODE PWR SUPPLIES

Data Sheet



| | |
| --- | --- |
| 0-1390: | $0.68 |
| 1390-2000: | $0.64 |
| 2000-8000: | $0.61 |
| 8000-12000: | $0.59 |


TDA4605-3

Infineon Technologies

Soft Switching PWM Controllers CTRL IC FOR SWITCH MODE PWR SUPPLIES

Data Sheet



| | |
| --- | --- |
| 0-1390: | $0.68 |
| 1390-2000: | $0.64 |
| 2000-8000: | $0.61 |
| 8000-12000: | $0.59 |