Product Summary
The MC33262PG is a power factor controller. The MC33262PG is a active power factor controller specifically designed for use as a preconverter in electronic ballast and in off.line power converter applications. The integrated circuit of the MC33262PG features an internal startup timer for stand.alone applications, a one quadrant multiplier for near unity power factor, zero current detector to ensure critical conduction operation, transconductance error amplifier.
Parametrics
MC33262PG absolute maximum ratings: (1)Total Power Supply and Zener Current (ICC + IZ): 30 mA; (2)Output Current, Source or Sink IO: 500 mA; (3)Current Sense, Multiplier, and Voltage Feedback Inputs Vin: -1.0 to +10 V; (4)Operating Junction Temperature TJ: +150 ℃; (5)Operating Ambient Temperature, TA: 0 to + 85℃; (6)Storage Temperature Tstg: -65 to +150 ℃.
Features
MC33262PG features: (1)Overvoltage Comparator Eliminates Runaway Output Voltage; (2)Internal Startup Timer; (3)One Quadrant Multiplier; (4)Zero Current Detector; (5)Trimmed 2% Internal Bandgap Reference; (6)Totem Pole Output with High State Clamp; (7)Undervoltage Lockout with 6.0 V of Hysteresis; (8)Low Startup and Operating Current; (9)Supersedes Functionality of SG3561 and TDA4817; (10)Pb-Free Packages are Available.
Diagrams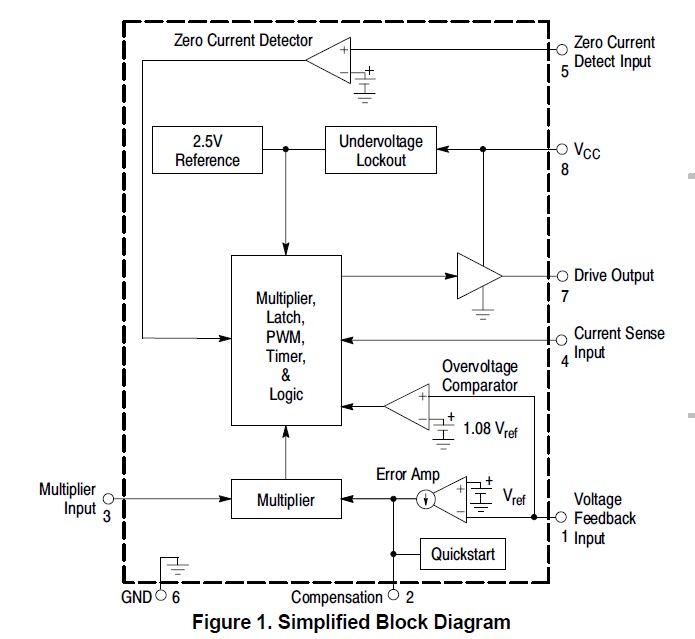 Image
Part No
Mfg
Description
Pricing
(USD)
Quantity

MC33262PG

ON Semiconductor

Power Factor Correction ICs Critical Mode PFC w/OVP

Data Sheet



| | |
| --- | --- |
| 0-1: | $0.63 |
| 1-25: | $0.55 |
| 25-100: | $0.38 |
| 100-500: | $0.32 |

Image
Part No
Mfg
Description
Pricing
(USD)
Quantity

MC3302/4

Other



Data Sheet

Negotiable

MC33023

Other



Data Sheet

Negotiable

MC33023DW

ON Semiconductor

Current Mode PWM Controllers Single Ended Voltage

Data Sheet

Negotiable

MC33023DWG

ON Semiconductor

Current Mode PWM Controllers Single Ended Voltage or Current Mode PWM

Data Sheet



| | |
| --- | --- |
| 0-1: | $3.14 |
| 1-25: | $2.62 |
| 25-100: | $1.60 |
| 100-500: | $1.57 |


MC33023DWR2

ON Semiconductor

Current Mode PWM Controllers Single Ended Voltage

Data Sheet

Negotiable

MC33023DWR2G

ON Semiconductor

Current Mode PWM Controllers Single Ended Voltage or Current Mode PWM

Data Sheet



| | |
| --- | --- |
| 0-490: | $1.87 |
| 490-500: | $1.51 |
| 500-1000: | $1.27 |
| 1000-2000: | $1.21 |